Event organiser: Kulturhaus Karlstorbahnhof e.V., Am Karlstor 1, 69117 Heidelberg, Deutschland
Information on concessions
Bei Schwerbehinderten mit Ausweis (mit dem Zeichen B) ist die Begleitperson frei.
Bitte vorher unter 06221-978912 beim Veranstalter anmelden.
Event info
On "Dreaming Is Dead Now", multi-talented wonder Skinny Pelembe meditates on grief, heartache, stunted aspirations and fresh possibilities in post-recession Britain. A patchwork of personal and musical touchstones, the Johannesburg-born, Doncaster-raised artist weaves together memories and observations, sun-dazzled California folk diced with the murkier corners of the UK dance lineage. It's an exaltation of flawed, multi-faceted Britain, its imperfections and contradictions held up to be seen and celebrated.
Location
Kulturhaus Karlstorbahnhof
Am Karlstor 1
69117 Heidelberg
Germany
Plan route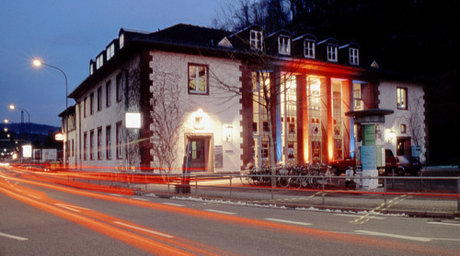 Der Karlstorbahnhof in Heidelberg gehört zu den wichtigsten Kulturangeboten der Region. Kino, Theater, Konzerte und Kleinkunst finden sich in den Räumlichkeiten des alten Bahnhofgebäudes ein. Und das Programm lockt jährlich 100.000 Besucher zum Kulturzentrum.

Erst 1995 gegründet, gehört das Kulturhaus Karlsbahnhof zu den jüngsten soziokulturellen Zentren Deutschlands. Und dennoch ist es national und international hoch angesehen. Grund hierfür ist das breitgefächerte Angebot. Verschiedene Vereine haben sich unter dem Dach des Bahnhofs zusammengefunden, um Kunst und Kultur aus aller Welt nach Heidelberg zu bringen. Und nun darf man sich seit geraumer Zeit auf Konzerte, DJ-Events und Kabarett-Kleinkunst-Comedy-Veranstaltungen freuen. Hinzu kommen Sprech- und Tanztheater, sowie ein Filmprogramm fernab des Hollywood-Mainstreams. Diese Mischung aller Kunstformen macht den Erfolg des Kulturzentrums aus.

Der Karlstorbahnhof Heidelberg besticht durch tolles Ambiente und auserlesenes Programm. Durch die vielen verschiedenen Veranstaltungen ist für jeden zu jederzeit etwas Passendes dabei. Kommen Sie vorbei und überzeugen Sie sich selbst!